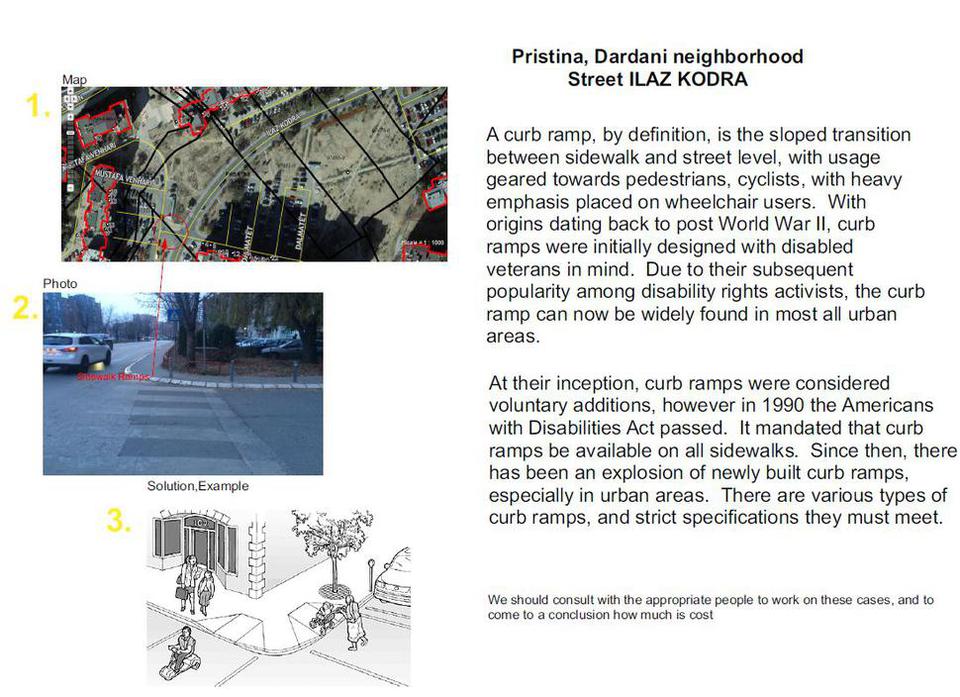 Dardani neighborhood,Street Ilaz Kodra
Pridané 04/12/2016 | Zmenené 04/12/2016
Problem description:
This neighborhood has no sidewalks ramp that enables the movement of persons of disability.
Proposed Intervention:
A curb ramp, by definition, is the sloped transition between sidewalk and street level, with usage geared towards pedestrians, cyclists, with heavy emphasis placed on wheelchair users. With origins dating back to post World War II, curb ramps were initially designed with disabled veterans in mind. Due to their subsequent popularity among disability rights activists, the curb ramp can now be widely found in most all urban areas.
At their inception, curb ramps were considered voluntary additions, however in 1990 the Americans with Disabilities Act passed. It mandated that curb ramps be available on all sidewalks. Since then, there has been an explosion of newly built curb ramps, especially in urban areas. There are various types of curb ramps, and strict specifications they must meet.
Proposed Intervention Budget:
We should consult with the appropiate people to work on these cases,and to come to a conculusion how much is cost.
Comments
Log in or create a user account to comment.